We would strongly recommend not to pay in advance. If you must pay something to have the seller hold the product for you, ensure it is a small & insignificant amount.
Advance payment is the most common technique adopted by fraud sellers to trick buyers and pursue them to make upfront payments for goods, services, etc.
Advance payment frauds – What you must watch for!
Too good to be true and irresistible offers
Token money demands without meeting in person/physically checking the product
Posing as people from trustworthy & noble professions like Army Personnel, CISF, BSF, Doctors, NGOs, Public services, etc.
Showcase of absolute urgency to sell the item or an emotional appealg. family member is sick and urgent need of money for operation, payment of school fees, etc.
Job guarantee offers and employment schemes requesting an advance fee to secure the job or obtain the materials to perform the job or involving money transfer.
Advance fees to cover any processing charges, pay duty, taxes, courier fees, shipment and conversion charges, etc.
Note: We have put in "safety tips" before you start chatting with OLX users to advise you on concluding a safe deal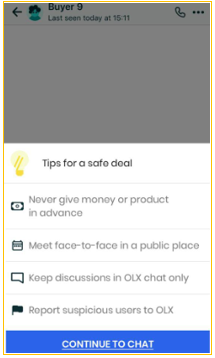 Safety Tips:
You can also read the safety tips while chatting with the user. Follow the below steps:
On the Ad page, select the 'Chat' option.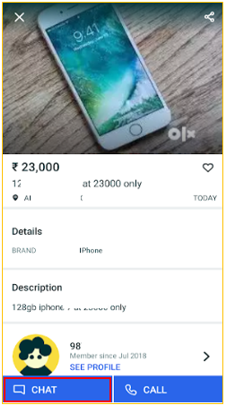 Once the chat window opens, tap on the "3 dots" on the top right.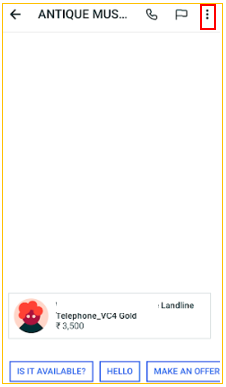 A smart window will display on upper right. Tap on 'Safety Tips' button and tips will be displayed.