Engage in a hassle-free, convenient experience of selling your car by choosing our professional services. We provide the following:
Free inspection for car price valuation
Live auction to get the best price for your car
Hassle-free documentation
Instant Payment
Free RC transfer
Take a quick peek here.
Get started in 3 simple steps!
Step 1: Know your car's worth > Step 2: Get a free inspection > Step 3: Sell your car!
Open the OLX App and click on "Sell your car"
A pop-up window with details of benefits and steps will appear. You can post an ad even if you don't want to book an appointment yet.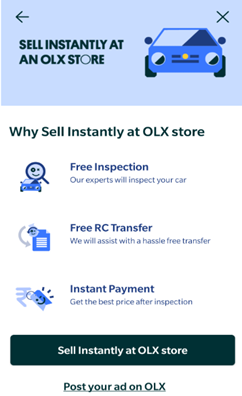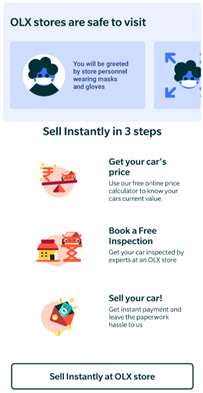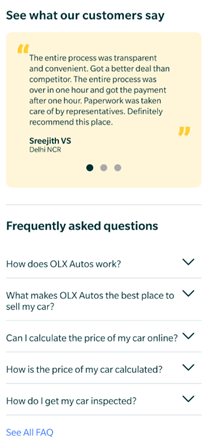 Fill in the details of your car to get a fair estimate.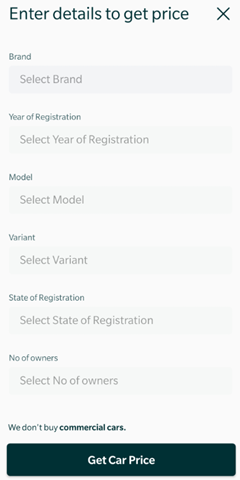 Based on the details entered, a fair evaluation of your car will be done and a rate card mentioning your price will appear as shown below(prior to inspection).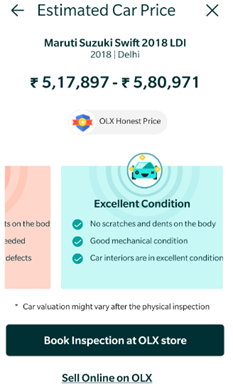 *The price is indicative and may vary upon actual car inspection.
Please note the following:
We do not buy any commercial car(s)

The car should be registered in a city where we have an operational presence

The car should have complete, original papers and computerized registration plates (additional paperwork may be required if the original owner is not available)
For any clarification, please reach out to our customer service team at + 91 9821110000.